Keres Day Ten
Monday, 22 May 2000
The games from Day Ten
Open Section Crosstable
Under-2000, Under-1700 Section Crosstables
The 25th Keres Memorial base page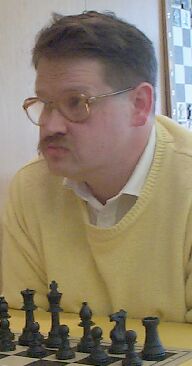 It's Over!
GM Vladimir Epishin (left) is the winner of the 2000 Keres Memorial.
After 10 rounds, 11 days, and 18 separate playing sessions, the 2000 Paul Keres Memorial, 25th in the annual series, is over. The 82 players are not a record for numbers, but this is the first time that players have been able to go for norms. Closest was IM John Donaldson, who needed to beat Dave Herder in round 9, when he would have had a 9-game GM norm (we think!), but blundered in a very very comfortable position. Herder agreed to a draw, but at that stage had most of the winning chances (except for the clock factor). Had he won that game and then defeated GM Epishin (! -- pictured at the left) in the final round, he would have achieved an IM norm.
Missing from the tournament was a strong but beatable underbelly of FIDE 2300-2400 rated players to provide the IM norm hopefuls something to work on. As it was, they did not make much headway against the experienced 2399 + professionals at the top of the charts. And, of course, 2350-type players are generally more qualified to be IM norm hopefuls than are their lower-rated colleagues.
Day Ten top games and photos
Several players expected to be able to leave early, though we had advertised the last round as starting at 4 pm, just like all the others. Most significantly, Ivkov and Gligoric had to be at the airport at 5:30. It turned out about 50-50 in the Open section, with more than 50% of the Under- section wanting to play at 4 pm. We therefore had two playing sessions.
Jimenez - Epishin White had no chance in the opposite-colour bishop position that arose out of the opening, as Black had: a pawn, the initiative, and the presence of rooks.
Ivkov = Vetemaa Ivkov consolidated his hold on second place with a short and standard draw.
Herder - Gligoric Black quickly grabbed the initiative, and White never attained good spots for his pieces. The win moved Gligoric into a tie for second place.
Donaldson + Gibney Before the game I overheard the two players discussing the colours and nodded sagely to myself that, yes, this was one of the very few pairings where I had had to give one player a 6-4 colour split. I wish I had listened a bit harder, because I had given White to the wrong player! I didn't hear anybody mention the magic words three Whites in a row. I just put the cards in the wrong slots in the pairing boards. Donaldson got a backward pawn to sit on, but upped the ante by attacking Gibney's kingside pawns, which soon produced a decisive advantage.
Harmon - Orlov "You gave me quite a scare" were Orlov's words after the game. But the attack was not quite good enough, and retribution was swift.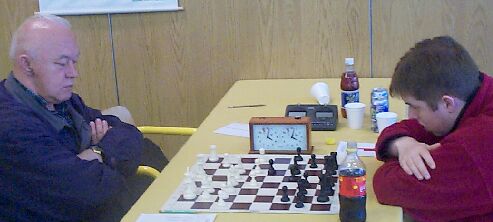 Milicevic = Stanford Stanford appeared to be gaining an advantage with the bishop pair and healthier pawns, but the ending soon simplified and of course was played out to the bitter end.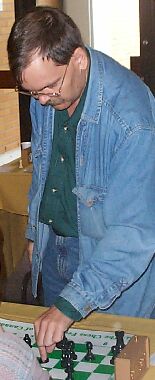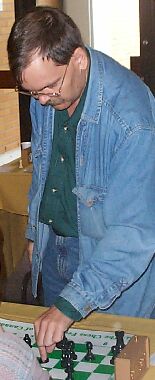 Jaan Ehlvest gives clock simul at Totem Park on May 22nd.
Yes, Virginia, there is an Ehlvest.
Or are there two Ehlvestes?
Prize Winners and Final Standings
Open Section

Svetozar Gligoric had White against Borislav Ivkov.
John Donaldson had White against Georgi Orlov.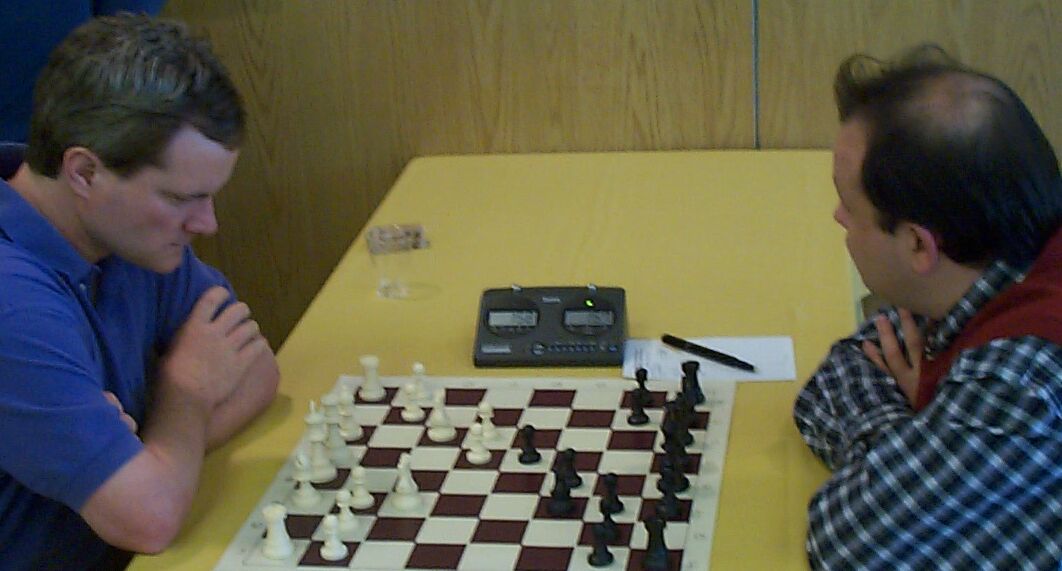 | | |
| --- | --- |
| 8.5-1.5 | GM Vladimir Epishin - $1,500 first |
| 7.5-2.5 | GM Borislav Ivkov, GM Svetozar Gligoric, IM John Donaldson - $450 2nd-4th |
| 6.5-3.5 | IM Georgi Orlov - $200 fifth |
| 6-4 | Juri Vetemaa |
| 5.5-4.5 | Roman Jiganchine, Mike Stanford - $158.33 Dark Horse and Under-2300 |
| 5.5-4.5 | Dave Herder, Juan Jimenez, Jaime Vaglio, Clark Harmon - $158.33 Under-2300 |
| 5.5-4.5 | Dragoljub Milicevic |
| 5-5 | Kaliem Nathani, Russell Remedios, David Hladek, Howard Wu, Eugene Gibney, Michael Mazock, Sergei Sokourinski, Luc Poitras, Dale Haukenfrers, Kari Heinola, Goran Ivankovic |
| 4.5-5.5 | Ian Martinovsky, Michael Franett, Viktors Pupols, Nigel Fullbrook |
| 4-6 | Jason Williamson, Alfred Pechisker, Dale Haessel, Jonathan Berry* (6), Gary Basanta (8) |
| 3.5-6.5 | Elliott Neff, Stephen Wright, Jack Yoos (8) |
| 3-7 | Philip Harris, Tony Berrocoso, John Niksic |
| 1.5 | Toni Deline* (4), Aviv Friedman (5) |
| 1 | Zoltan Baunok (7) |
* Berry and Deline acted occasionally as "house players" when there was an odd number and were not formally in the tournament.
Otherwise, the number in parentheses, e.g., (7) indicates number of rounds completed by a player who withdrew.
Under-2000 Section
Standings and Prize Winners
George Kosinski
Winner - Under 2000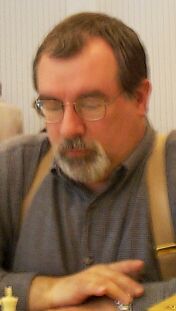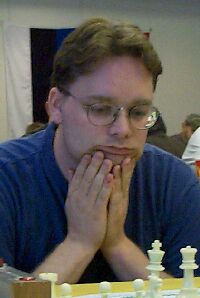 James Kerry
(left)
Tim Stewart
(right)
Tied for second place, Under-2000
| | |
| --- | --- |
| 8-2 | George Kosinski - $600 first |
| 7-3 | James Kerry, Timothy Stewart - $150 each, tied for second |
| 6.5-3.5 | Lothar Moenke, Ernest Krzyzowski, David Crook, Philippe Desquieu |
| 6-4 | Benjamin R. Kruger |
| 5.5-4.5 | Rick Chranowski, Lucas Davies - $100 each, Dark Horse |
| 5.5-4.5 | Steve Fowler |
| 5-5 | Kazimiercz Holubowicz, Dave Medalen, Eric Losch |
| 4.5-5.5 | Jon Firor, Juni Caluza, Neil Hamanishi |
| 2.5 | Dwayne Angelvette (8) |
| 0.5 | August Piper (3) |
Under-1700 Section
Sorry, Justin and George, I was so busy taking photos of people who didn't win your section that I didn't take any of you!
| | |
| --- | --- |
| 6-4 | Justin Hardy - $500 |
| 5.5-4.5 | George Abood - $250 |
| 5-5 | Savo Jeremic - $150 Dark Horse |
| 5-5 | Steve Finette, Rick Martinson, Alex Zamorano |
| 4.5-5.5 | Avery Chicoine |
| 4-6 | Nicholas Kranjevic, Mark Barnes, Michael Becherer |
| 3.5-6.5 | Louis McCusky, Darren Bates |
| 1.5 | Dan Chapman, Jamie Campbell (8), Lynn Stringer* (3) |
| 0.5 | Case Dekker (1) |
* Lynn Stringer acted occasionally as a "house player" when there was an odd number. She was not formally in the tournament.
Otherwise, the number in parentheses, e.g., (7) indicates number of rounds completed by a player who withdrew.
The Dark Horse prize went to the player in the bottom half of the section who had the best score.
The Under-2000 and Under-1700 sections were paired together until the last three rounds. Pairings thus were similar to the Ray Kerr Pairing System. Ray Kerr was co-organizer of the original Vancouver 1975.
---
Send email to:
Jonathan Berry, web-butler jberry@islandnet.com


URL: This web page is:
http://www.islandnet.com/~jberry/ka.htm
Last modified May 28, 2000